Growing rural communities together
Since 2011, Cash for Communities has raised over $650,000 for charities, schools and community organisations throughout New Zealand. The programme has enjoyed strong support from growers, farmers and contractors during the last 11 years and we've seen communities come together to raise money for their cause.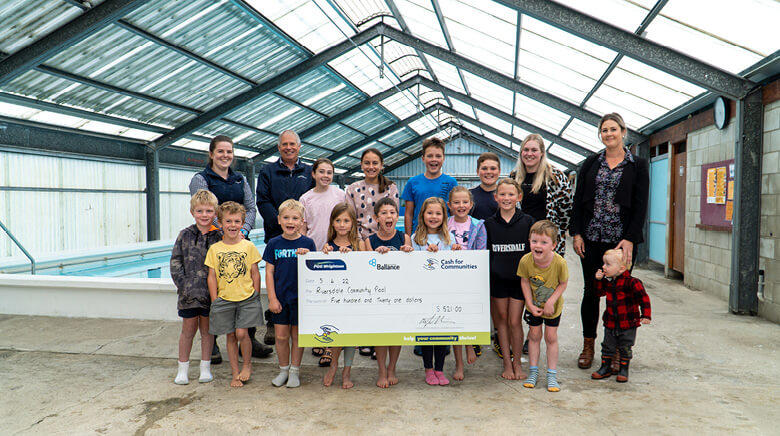 Wellsford Fire Brigade
"Without the community I don't think we could be a volunteer based Fire Brigade. So once again, thank you local farmers, keep buying your Ballance Agri-Nutrients fertiliser through PGG Wrightson," says Tarah Jones, Station Officer, Wellsford Fire Brigade.
St John Lumsden
"Thank you and on behalf of St John Southland, I would like to say your contribution has helped support the volunteers that provide this ambulance service," says Helen Wilson, St John Lumsden.
Tatuanui School
"Without the support of PGG Wrightson and Ballance Agri-Nutrients that sponsor and put money back into schools, there are a lot of opportunities our children would miss out on."
"Thank you so much to the farmers who participated in this programme, it is appreciated." says Denise Jones, Principal, Tatuanui School.
Methven Care Trust
In Mid Canterbury, the Methven Care Trust was presented with $1,057 raised through local community support.
"Thank you so much, we really appreciate this donation and the support of both of your organisations," says Janine Holland, Trustee at Methven Care Trust.
Northland Rescue Helicopter
"The money we get given by Cash for Communities goes into helping save lives - it goes into the operational costs, like maintenance, fuel, skilled staff. We would like to thank Ballance and PGG Wrightson and the farmers who supported Northland Rescue Helicopter during the programme," explains Vanessa Furze, General Manager, Northland Rescue Helicopter.